IMEC is the technique which Mebiol Inc., developed and is the state-of-the-art technique which grows tomatos of quality and of great profit. IMEC film we use for agriculture is originally used in medical field. Nouentai CO., is the only company which can support from introduction of IMEC to mastering the technique to marketing. Our company is distributer of IMEC system. Today, we are polishing our technology for better safety and higher productivity and profitability of midi tomatoes.

※IMEC is patented in more than 120 countries.
Feature of IMEC

---
About IMEC Film
It is a special film developed by Mebiol Inc.,. With IMEC system, products grow on the thin film made of hydrogel,IMEC film. Countless nano-sized holes on the film let only water and nutrients pass through it. This technique, which is applied from medical field, makes it possible for products to grow only with rich nutrients.
Grow Everywhere
System consists of liquid feeder and planting bed (film, non-woven, waterproof sheet, two irrigation tube). The field is seperated from land by waterproof sheet, so you can grow crops anywhere.

Safe and Eco Friendly
IMEC prevents bacteria and virus, so you can grow crops safely. Also, IMEC is eco-friendly since the water and fertilizer are kept by waterproof sheet that stops wasting those resources. Since IMEC doesn't require soil, it may be a solution for disaster recovery.
High quality, high sugar content, and high nutrient
Tomatoes grown by IMEC system is taste and smells delicious, and has high sugar content and high nutrients (lycopene, GABA, Amino acid). Products grown by IMEC is sold three times more expensive than other products.
Operated by Anyone
What is difficult about agriculture is managing soil. IMEC uses film instead of soil, so anyone can learn how to operate agriculture easily. It is said that it takes about 10 years to learn soil making, but IMEC allows beginners to start agriculture.
Low Cost・High Return
You can save initial costs with IMEC since the system saves great amount of water and fertilizer. Also, the cost for water, fertilizer, electricity, oil, and labor costs are much lower than hydroponics. As for the income, hydroponics produce great amount of tomatoes, while IMEC produce less amount but quality tomatoes so the income is the same. Therefore IMEC bring more profits.
How IMEC Works

---
Simple and Inexpensive
imec is easy to set and inexpensive. System consists of liquid feeder and planting bed (film, non-woven, waterproof sheet, two irrigation tube). Irrigation tubes proveide fertilized liquid which makes the roots of tomatoes stretch to get them. By managing watering with Imec film, the system gives tomatoes stress necessary for getting rich nutrients.
---
1.Soil
2.Waterproof Sheet
3.Irrigation Tube
4.Non-woven
5.Imec Film
6.Root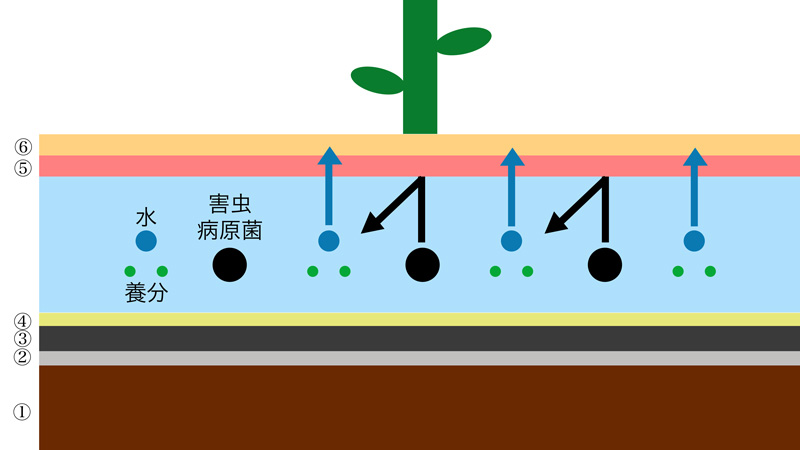 Comparison of IMEC and normal techniques

---
Comparison of expense and profit of IMEC and normal techniques

---
※The numbers may differ from the following depending on the cultivation environment. Please regard them as an example.
※Labor costs included in production costs are calculated by one person.
※Only for IMEC cultivation, the amount of pesticides is calculated for two years since the number is extremely small.
IMEC:1,200
Hydroponics:500
IMEC:more than8%
Hydroponics:more than 5%
IMEC:10,800
Hydroponics:10,000
Cost(1,000 yen・cost for production and sales)
IMEC:8,650
Hydroponics:9,510
Net profit(1,000 yen/10a)
IMEC:2,150
Hydroponics:490